Here is a nice sideshow banner featuring an exotic female cabaret dancer or burlesque performer. Painted like the more familiar sideshow banners once found on Midways and traveling Circuses, this banner does not have any promotional sayings or lettering. It does have the name OLGA in the lower left corner, which may have been the performers stage name. Was there a performer named Olga or was this banner used for promoting a Girl Review or Girly Show. We may never know for sure.
Here are my thoughts…
The age of the banner appears to be from the 1930's with its purple Art Deco background. I believe the banner is more likely from the 1940's to 1950's era.
The girl has a very unique look. She is not the typical female found on sideshow banners from the time period. What she really looks like is the type of female found in tattoo art of that period. There are many features like the hair, eyes and lips that one would find on early flash art. Also the line work and paint style is similar to that of a tattoo artist work. There were tattoo artist who painted sideshow banners during this time. One of the most famous being Jack C. Cripe, known as "Tattoo Jack". So maybe the banner was painted by someone who was a tattoo artist.
So who is Olga? Who is the girl on the banner? Many times the banner artist painted what their vision was of the featured act. Very seldom did they paint from photos of the actual performers. That said, I believe this artist was inspired by a well known vedette during this time period. Her name is Yolanda Montes and her stage name was "Tongolele". If you're not familiar with her, just do a Google search. She was a very talented dancer, performer and actress on stage and film. You'll even find 1940's and 1950's film clips of her on YouTube.
Once you know more about the performer and her striking appearance, you'll see the similarities with the girl on the banner. I think the artist drew from Tongolele's looks and dance style to create the dancing female. The long black and gray stylized flowing hair. Her large eyes, eyelashes and high long narrow eyebrows. There is also the large hooped earrings which she always seem to wear, whether she was performing or in her everyday real life.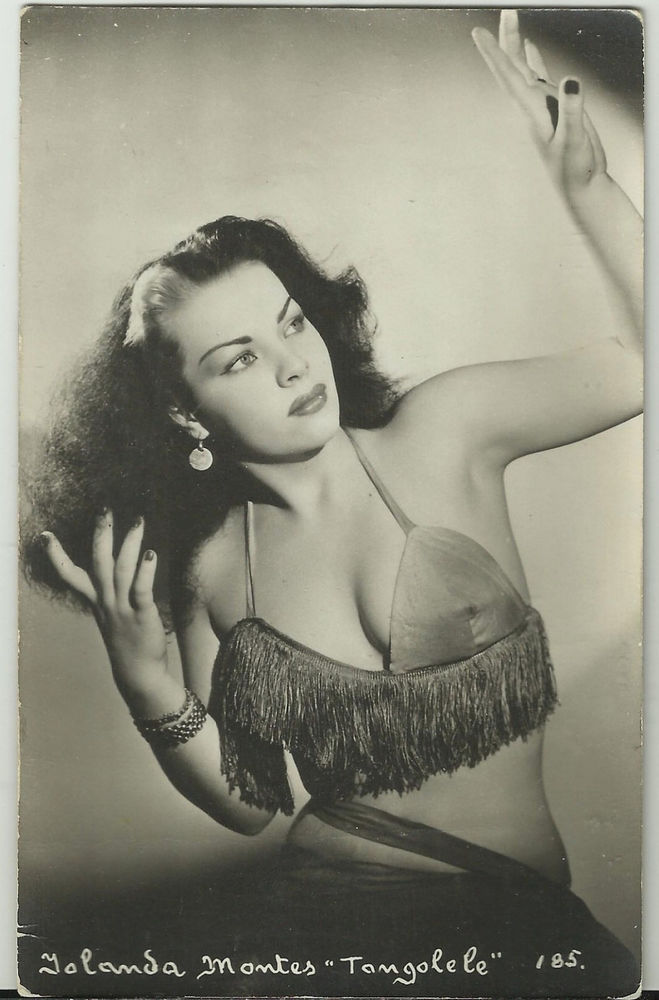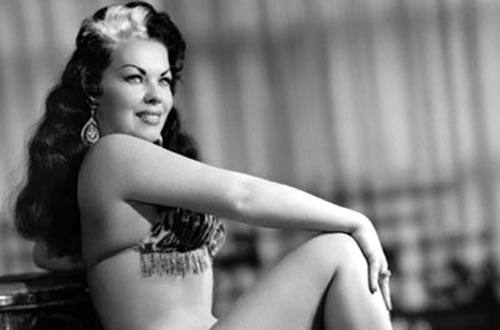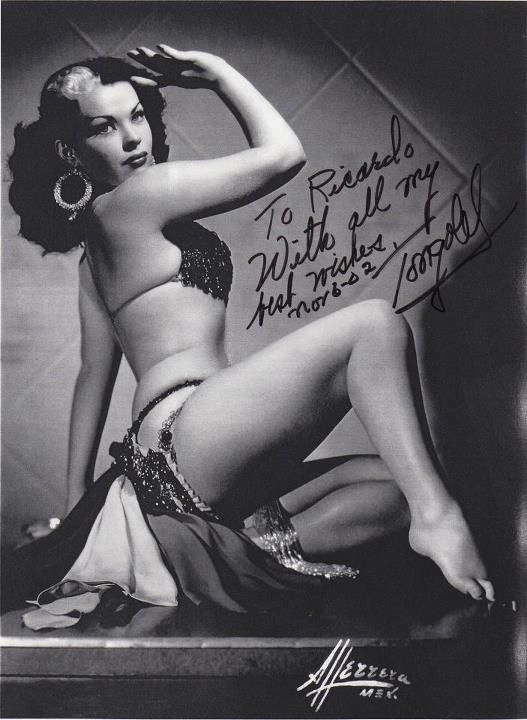 The girl on the banner is dancing with a leg up like a cabaret performer, which Tongolele did during the late 1940's. There is also the hands holding the costume, one up in the air and the other down to her side. When you see actual still photos of Ms. Montes performing, her hands are always in this position. It's as if this was here signature pose when being photographed. I think the artist who painted the mystery banner girl was heavily influenced by these photos of her striking pose and memorable appearance.
Whether you agree with my thoughts are not, this is still a very unique banner. One that should appeal to a variety of people. Collectors of circus and sideshow memorabilia will find its subject and design of interest. If you are a cabaret or burlesque performer, here's an opportunity to own a piece of history from that golden era. And of course there are the tattoo artist, who I believe, will see the style and influences from early flash art. How great would this be hanging in your tattoo parlor for all your customers to see. Certainly would distinguish your place from all the others.
Historical photos are for reference only and are not included with the banner. Any copyright or trademark of these images remains the property of its respective owner(s).
ARTIST:   Unknown
PERIOD:   1940's-1950's
COUNTRY OF ORIGIN:   United States
MATERIALS:   Painted canvas and steel rings.
HEIGHT:   86 in. (218 cm)
WIDTH:    104 in. (264 cm)
CONDITION:    The Burlesque performer sideshow banner is in good condition with the paint on the canvas in very nice condition and very stable. No signs of deterioration, cracking or flaking. The banner canvas itself, is in very good condition with very minor holes and a couple of small tears. There is staining and water marks, which is consistent with what you would expect to see on an authentic sideshow banner. The reinforced corners are damaged and in definite need of repair before using the hang rings. This damage is not uncommon for sideshow banners used outdoors. They were hung and stretched tightly on frames to handle any weather, rain or shine. The steel hang rings appear to be original to the banner.